Designers have a vital role to play in the web agency environment. Every feature, functionality, and website element must fit comfortably in the site's interface. Without great design, users will never find what they're looking for.
Until recently, creating a website meant working with a team of developers, managers, and coordinators. Your great design ideas can't code themselves, so web creation became a complex process with many moving parts.
Now that has changed. 
New technology allows web designers to operate as full-fledged web agencies on their own. You can take on projects, communicate with clients, and complete entire websites without outsourcing technical work to a third-party.
To do this, you simply need to equip your WordPress site with the appropriate tech stack. By combining a code-free website builder with a streamlined hosting solution, you can design and build comprehensive web experiences on your own.
Elementor is the #1 website builder on WordPress. It empowers designers to build and publish websites using an intuitive, zero-code web editor, and comes with a managed solution that takes the guesswork out of hosting. Elementor Cloud Website is the web creation toolkit designers have been waiting for.
Introducing Elementor Cloud Website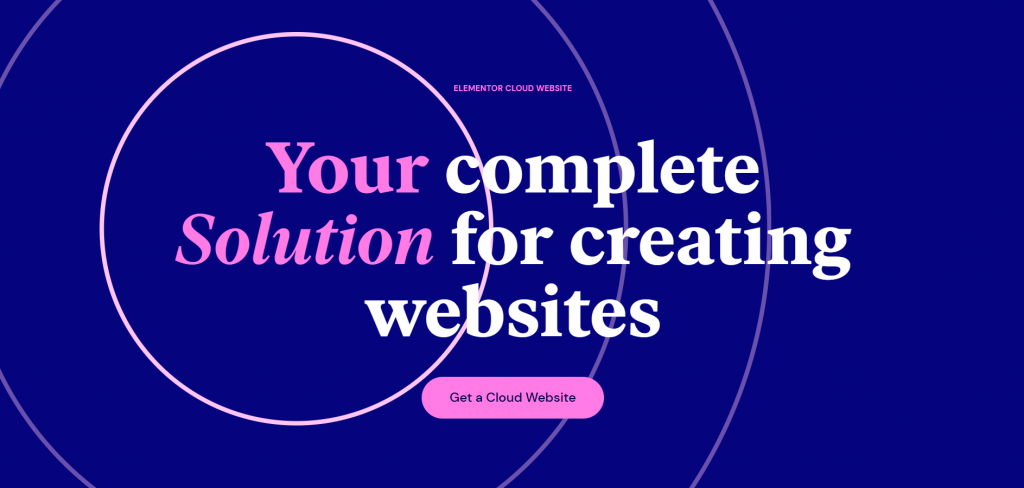 Elementor Cloud Website lets designers build and publish websites without having to find a third-party hosting provider, configure a dedicated server, and install WordPress on it. Instead of spending valuable time performing technical tasks, you can use pre-installed open source software directly on the built-in hosting platform.
This saves designers time, but having the Elementor Pro website builder pre-installed truly highlights the value of the service. Elementor Pro is a complete solution for building professional websites without any coding knowledge or experience. Combined with Elementor's managed hosting service, it provides the simplest plug-and-play web creation experience on the market.
With Elementor Cloud Website, you don't need to outsource technical tasks to an expensive team of professional developers. You can create and publish your designs exactly the way you imagine them using Elementor's intuitive drag-and-drop web editor on a cloud-hosted site.
That means there's no need to spend time installing WordPress, searching for compatible plugins, or resolving complex dependencies between different solutions in your tech stack. You gain immediate access to a readymade solution that lets you dive right into the work you know best.
Elementor Cloud Website makes web creation simpler and more secure
WordPress is a powerful content management system, but it's not the friendliest one for non-technical creators. That's why web agencies typically have a team of developers working to resolve technical issues on a daily basis.
Many of these issues stem from compatibility problems, software updates, and security vulnerabilities. When your WordPress tech stack involves dozens of different technologies made by dozens of different developers, it's only natural that changing one feature might break others.
Elementor is changing that by providing designers with a full-featured tech stack that contains everything you need to create and publish a professional website. All the software you need comes pre-installed, and all the compatibility issues have already been resolved. It's a solution that's designed to simply work.
But that doesn't mean you have to compromise on usability or security. Elementor Cloud Website relies on best-in-class Google Cloud infrastructure and comes with free Cloudflare SSL certification. Elementor's managed hosting service includes a dynamic content delivery network (CDN) and 24-hour backups to mitigate security risks.
SSL certification means your website is protected from hackers intercepting user web traffic or trying to spoof your site to steal user credentials. It also protects users who interact with your website from unsecured locations, or whose traffic passes through compromised network equipment. SSL is a must-have for all public-facing websites.

CDN technology improves website performance and reliability by copying redundant versions of your website across servers located in datacenters around the globe. If one server goes down for any reason, your CDN will automatically reroute traffic to the closest available copy.

24-hour backups are safely stored on Google's cloud infrastructure. You can access these backups whenever you wish. You can even create unique backups at specific times and save them separately, like right before a major change or website update.
Your Elementor Cloud Website comes with 20 GB of storage and 100 GB of bandwidth. You can support 100,000 monthly visits from the moment you first hit Publish.
Elementor Cloud Website Features and Benefits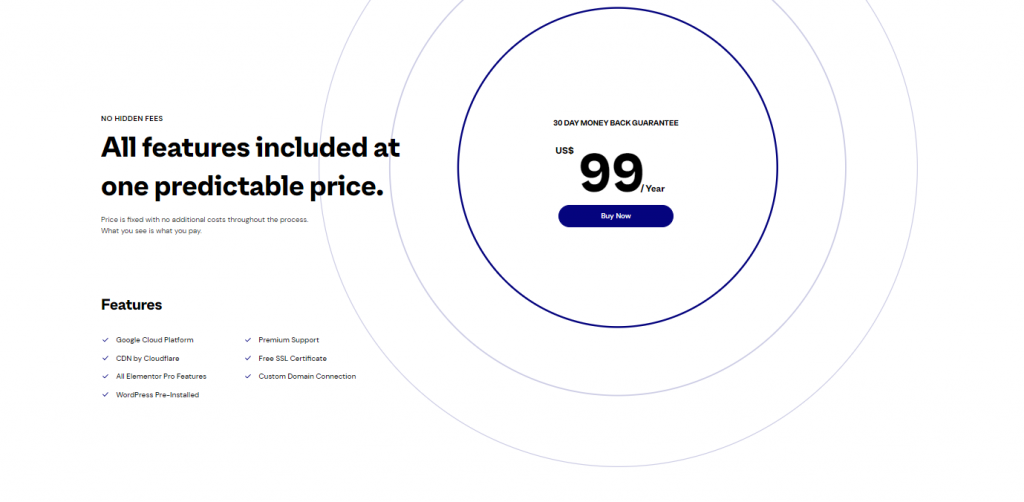 With WordPress as your content management system and Elementor as your website builder, you are free to design web pages that meet your exacting standards and specifications. Elementor has earned its place as one of the most reputable website builders in the WordPress community because of its flexibility and ease of use.
Your Elementor Cloud Website includes all of the most valuable features Elementor has to offer:
A drag-and-drop live editor that requires no coding knowledge to use.

More than 300 professionally designed web page templates.

More than 60 fully customizable Full Site Kits with backend functionality included.

More than 100 web page widgets covering everything from text blocks and imagery to complex forms and popups.
This makes it easy to quickly create high-quality websites that adhere to the latest design trends. Elementor's power and flexibility separates it from generic website builders that limit what designers can achieve. With Elementor, you can create the exact site you want without compromise.
As an additional benefit, Elementor Cloud Website hosting supports custom domain names at no additional cost. You can choose to host your website on the "elementor.cloud" subdomain, or you can connect your website to your own. You could even use both if you want.
Start building your own websites the easy way
The days of long, complex web creation projects are behind us. The WordPress community has moved onto new, highly streamlined workflows that empower individual developers to act like full-fledged web agencies. You can start creating comprehensive professional websites for clients for a low fixed price of US $99 per year – that's less than $10 per month.